OFFICE OF STUDENT INVOLVEMENT
FRATERNITY AND SORORITY LIFE
TOGETHER, WE THRIVE | M.E.R.C.E.D. Pledge!
[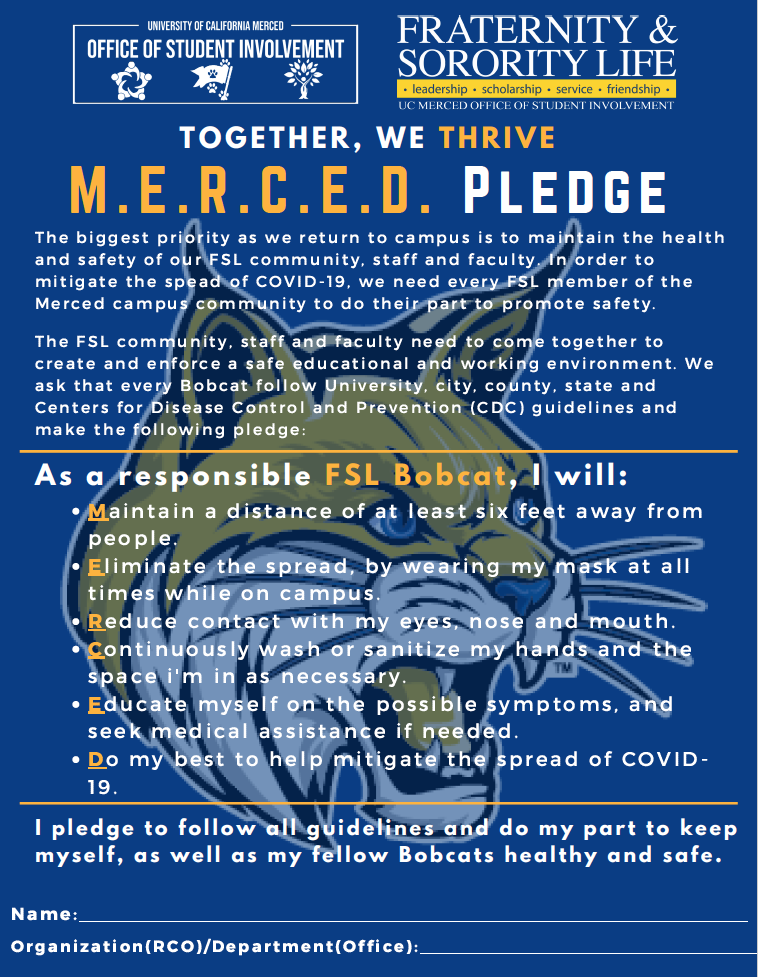 As we continue to prevent the spread of COVID-19, we have created the M.E.R.C.E.D. Pledge campaign which focuses on maintaining the health and safety of every Bobcats, FSL community, staff, and faculty. We ask every FSL member, staff, faculty, and Bobcats to participate in our M.E.R.C.E.D Pledge campaign so we can avert the spread of COVID-19. Download the MERCED Pledge and take it TODAY! Send it to us at FSL@ucmerced.edu.
Together, we should stand strong and do our part to keep ourselves and fellow Bobcats healthy and safe! We ask that every Bobcat follow university, city, county, state, and CDC guidelines.
As a responsible FSL Bobcat, I will:  
Maintain a distance of at least six feet apart away from people.
Eliminate the spread, by wearing my mask at all times while on campus
Reduce contact with my eyes, nose, and mouth
Continuously wash or sanitize my hands and the space I'm in as necessary
Educate myself on the possible symptoms, and seek medical assistance if needed.
Do my best to help stop the spread of COVID-19
By acknowledging this, you promise to follow all guidelines and do your part to keep yourself, and your fellow Bobcats healthy and safe. 
*Due to technical diffculties we will be extending the deadline. All individual members FSL organizations and each member will be required to acknowledge and sign this pledge by September 30th, 2020.*
In addition, you can show your support to our campaign photos on social medias by using #MERCEDPledge and tagging us @ucmercedosi and @ucmercedfsl.
For more information about our campaign, please contact Office of Student Involvement at fsl@ucmerced.edu.