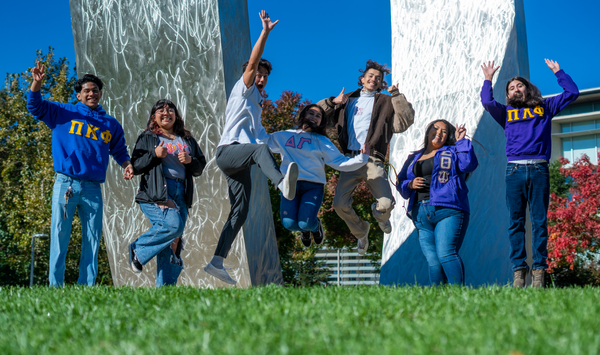 UC Merced currently recognizes 11 social fraternity and sorority organizations, 7 professional fraternities, two governing councils, and an honor society.
Recognized fraternities and sororities at UC Merced are supported and thrive with the following benefits:
Interaction with the other members of the UC Merced fraternity/sorority community, including more than 500 students and 18 chapters;
Use of UC Merced facilities, including but not limited to rooms and tabling space;
Use of an on-campus Agency Account and club email address;
Programming, advising, support, and training related to leadership development, risk management, and other topics from Fraternity and Sorority Life and the Office of Student Involvement;
Participation in the Fall/Informal and Formal Recruitment processes required for fraternity/sorority membership at UC Merced;
Involvement in Fraternity and Sorority Council, Professional Fraternity Council, and Order of Omega (the FSL honor society; currently inactive)
Involvement in UC Merced community-wide events, including but not limited to Orientation, Bobcat Day, Family Weekend, Fraternity and Sorority Life Week, and National Hazing Prevention Week
Recognition through the All-FSL Grade Report, and UC Merced Leadership Awards awards ceremony.
Recognition of Fraternities and Sororities
The names of the fraternities and sororities listed on this page are the only chapters recognized at UC Merced. Beware of any group that says they are a fraternity or sorority, but is not listed on this page or is not registered with the Office of Student Involvement. In the absence of recognition from the Fraternity and Sorority Council, Professional Fraternity Council, or the Office of Student Involvement and UC Merced, fraternity/sorority organizations may not function as an organized group on campus. Because unrecognized groups do not receive any form of support, oversight, or advisement from the university, there are significant concerns related to the potential lack of liability insurance and policies for risk management, hazing, sexual harassment, or other related high-risk activities. We strongly discourage participation in unrecognized groups.
Unrecognized Groups
Sigma Delta Alpha: recognition never given; acted without regard for Expansion Policy.
Omega Phi Beta Sorority Inc.: recognition never given.
Suspended Groups
Sigma Alpha Epsilon: Recognition suspended until Fall 2017, must reapply and be selected to re-establish a chapter.
Recently Closed Chapters
Sigma Tau Gamma (closed Spring 2020 due to low numbers and not being a fully chartered chapter)