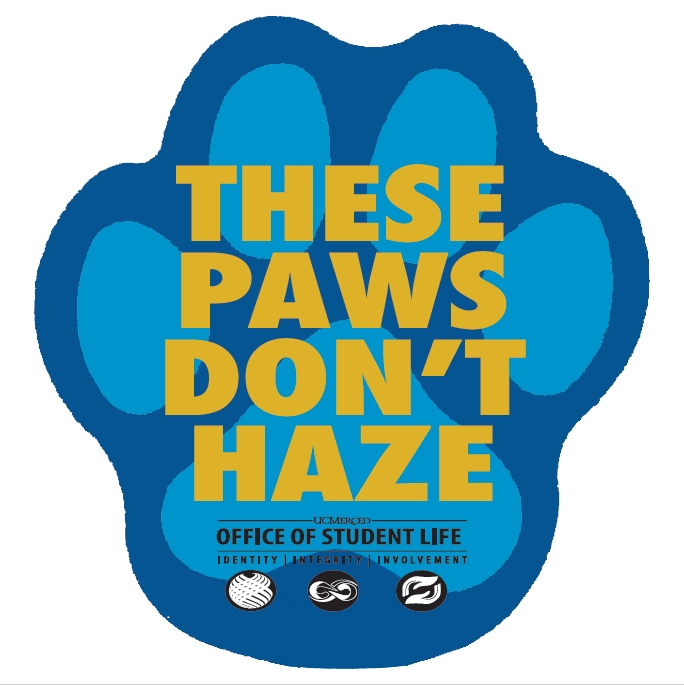 UC Merced is a community that aims to support the positive growth and development of all students through co-curricular involvement in organizations, teams and community service. We are committed to the promotion of close-knit and comfortable environments where students can get involved, build meaningful relationships and develop leadership skills. Though many organizations have certain requirements that new members must fulfill, legitimate obligations of membership should not put students in danger or humiliate, degrade or abuse them regardless of a person's willingness to participate.
All group activities must respect the dignity of an individual. Any activity which is demeaning, embarrassing, or mentally or physically injurious to an individual or group is considered hazing and is not permitted by the University or State of California.
UC Student Code of Conduct
"Participation in hazing or any method of initiation or pre-initiation into a campus organization or other activity engaged in by the organization or members of the organization at any time that causes, or is likely to cause, physical injury or personal degradation or disgrace resulting in psychological harm to any student or other person." (Conduct Standard 102.12)
California State Law
"'Hazing' or 'haze' is conduct which causes, or is likely to cause, bodily danger, physical harm, or personal degradation or disgrace resulting in physical or mental harm to another person in the course of the other person's pre-initiation into, initiation into, affiliation with, holding office in, or maintaining membership in any organization." (California Penal Code, Section 245.6)
Hazing Prevention Programming
Each year, the Fraternity and Sorority Office plans either a Hazing Prevention Day or Hazing Prevention Week in the Fall semester of the academic year. Be on the lookout on our Facebook & Instagram page for updated events.
Each chapter is required to recieve a Hazing Prevention presentation in their chapter meeting once in an academic year. Additionally, new member educators/pledge educators are required to attend a specific Hazing Prevention workshop geared towards new member/membership practices prior to each recruitment period.
Sign the Hazing Prevention Pledge & take a picture of yourself with it! Send it us at fsl@ucmerced.edu or @ucmercedfsl to be featured on our social media!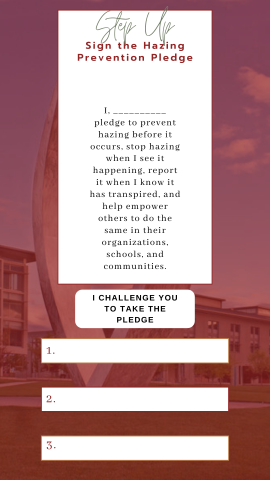 How can you report Hazing?
If you are unsure if something is considered hazing, please email or call any Student Conduct officer. Each student conduct officer has their contact information below. 
Resources
Hayley Montoya, Coordinator for Student Involvement & Developmental Programs, hmontoya2@ucmerced.edu, 209-228-2584
Doug Zuidema, Assistant Director of Student Rights and Responsibility - Conduct & Intergrity Programs, dzuidema@ucmerced.edu, 209-228-5442
Le'Trice Curl, Associate Dean of Students, Office of Student Rights & Responsibility, lcurl@ucmerced.edu, 209-228-7881
Student Conduct, studentconduct@ucmerced.edu, 209-228-5433 (209-CAT-LIFE)
UC Merced Police Department, police@ucmerced.edu, 209-228-2677
Office of the Ombuds, A Confidental, Informal, Neutral, and Independent resource for all UC Merced community members, 209-228-4410
Greek Anti-Hazing Hotline (toll-free and anonymous), 888-668-4293 (888-NOT-HAZE)
Outside Resources: