Hayley Montoya, Coordinator for Fraternity and Sorority Life and Student Conduct
Office of Student Life, Granite Pass 163
209-228-2584
"Hayley is a UC Merced alumna, class of 2016. Her passion for working in Student Affairs stemed from her sorority leadership experience at UC Merced. Since graduating UC Merced, she went on to complete her Masters of Arts in Education - Higher Education, Administration, and Leadership at Fresno State. As a UC Merced alumna and Merced native, she strives to make the FSL student experience better and encourages FSL members to be engaged in the Merced community. in her free time, she enjoys attending concerts and playing with her dog, Maple."
Steven Ortiz, Student Assistant
Fraternity and Sorority Life, Granite Pass 163
"Steven is a fifth-year Mechanical Engineering major from Los Angeles, CA. On top of being a Fraternity and Sorority Life (FSL) Student Assistant, he is also a founding father and current president of Pi Kappa Phi Fraternity. He loves being a part of the FSL community where he gets to meet a lot of people. He also loves renewable energy and works in Dr. Jian-Qiao Sun's lab researching energy harvesting from road traffic through piezoelectricty. He hopes to keep his focus in energy after college and plans to attend graduate school in the near future. For fun he likes to make music and tend to his aquarium."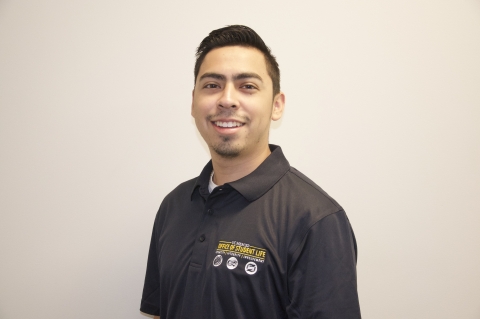 Carlos Jason Rocha, Student Assistant
Fraternity and Sorority Life, Granite Pass 163
"Carlos Rocha is a fourth-year Computer Science major with a minor in Management and Business Economics. His involvement on this campus is exceptional, apart from being one of the Fraternity and Sorority Life Interns, he is an active member of Pi Kappa Phi Fraternity and currently holds a chair position in Theta Tau Professional Fraternity. FSL has helped him grow as an individual and a professional. Carlos is continuously expanding his network as he thinks it's one of the most important tools in life. After college, he wants to go straight into the industry to gain a position as a Software Engineer in Silicon Valley."